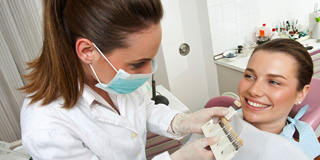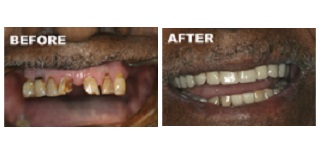 New dentures ready when you are!
The decision to have your teeth removed and dentures made is a life-changing decision. If your remaining teeth cause discomfort or your dental function is greatly diminished, then properly constructed dentures can certainly improve your quality of life.
If a hasty decision is made to remove your good teeth and a discount denture is made, you may find a disappointing decrease in your quality of life.
If you do need to have complete dentures made, keep the following in mind: At Dr. Chapel's office, a complimentary consultation will determine if you have enough solid teeth to work with or if indeed, you need to consider complete dentures. Many patients are pleased to find they have more solid teeth to keep than they anticipated.
Tim Chapel personally selects and arranges your denture teeth to give you your natural smile
The denture is made in advance so the day your teeth are removed, you have a comfortable denture to put in place. Dr. Chapel sees you over the next few weeks to make sure the transition is as comfortable as possible. You will never be without teeth
Several months after you receive your dentures, you will have a "reline" to make your dentures fit your newly healed ridges.